2019 AQuatech CHINA (ATC)
Introduction: ATC is the largest water industry international fair in China and has become the largest water fair in the world. Zhengzhou Zhulin Activated Carbon Group will have the chance to attend this professional water treatment fair with professional service and best quality.
The current ATC, which is a world-wide water industry event, exhibition area exceeds 250,000 square meters, it has attracted more than 72 countries and regions with nearly 100,000 visitors.
Booth: 6.1H8152
Time: 3 - 4 - 5 June 2019
Add: National Exhibition and Convention Center (Shanghai)
South entrance, No.168 East Yinggang Rd.Qingpu District, Shanghai,China

Zhulin Group is China's leading supplier dedicated to providing clients' with the quickest quotes, best quality products, most competitive prices of activated carbon since establishing. With over 12 years of expertise in activated carbon industry, Zhulin Group is committed to providing a range of innovative and cost-effective activated carbon products(coal based activated carbon and coconut shell activated carbon, and other water filter media), which are widely applied in water treatment, sewage purification, gas purification, decaffeination, gold purification, metal extraction, medicine industry, air filters in gas masks and respirators, filters in compressed air and many other applications.
Due to its continuous and widespread success in overseas market and outstanding social contributions, the company was awarded by the local government for many times. Our products have been exported to Europe, Asia, Africa, South America, Oceania and other countries and regions, which enjoys good reputation.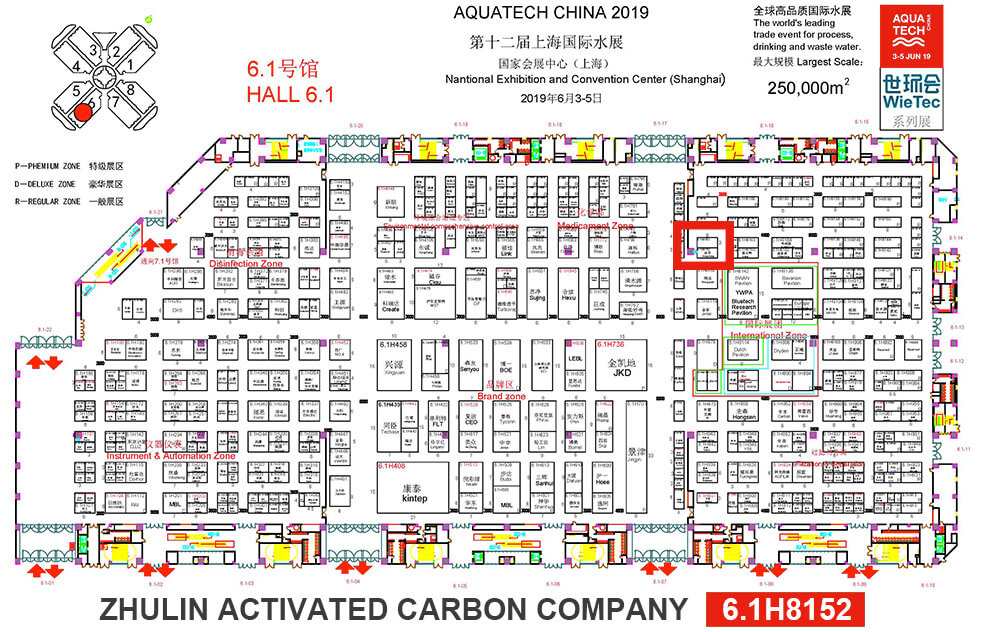 We welcome your visit and experience at booth 6.1H8152.Zhulincarbon will give you advice and solutions on water treatment.We look forward to meeting new and old customers in aquatech China in 2019 for win-win cooperation.